Happy Friday! I hope your workday goes by quickly and your weekend arrives sooner rather than later.
I am actually off work today, thanks to a long weekend (Friday, Saturday, Sunday, and Monday) known as "Fall Break." Is it just me, or did we not get Fall Break? I'm definitely not complaining, though!
Originally, John and I talked about going on a short trip somewhere, but then I decided that what I really wanted to do was stay home, rest, relax, get things done around the house, and enjoy a little "slow down" time together (unfortunately John does NOT get a Fall Break).
On the agenda for the weekend – fall decorations, cleaning, looaads of laundry, bridesmaid dress shopping with my sister, football, church, and lots of other stuff I'm sure we'll get into.
Today, however, I want to share with you some things I've been loving this week (linking up with Heather and Clare today):
Friday Favorites
Mid-Rise Mossimo Denim Leggings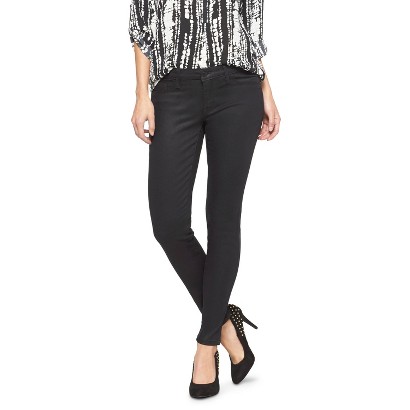 I have been loving these jean leggings from Target. Technically, we're not "allowed" to wear jeans at work, but these looks nice and so NOT like denim, that I've been getting away with it. Shhh! They are super comfortable, and fit well. I own them in both black and blue, and am hoping to get my hands on the burgundy and tan colors as well.
Barre 3 10 minute Workout Videos
Yes, I'm still on the Barre 3 bandwagon. I've been loving the 10 minute videos. After long work days with limited time (and honestly about zero motivation) these 10 minute videos are wonderful. After 1 or 2 quick sessions, I feel like a new woman. The videos are targeted to whichever body part you choose and are very effective. I've definitely woken up a few mornings feeling some soreness.
So, I've yet dig out the majority of our fall decorations, but I just love this time of the year! We snagged a few items last weekend that I love, and I cannot wait to get the rest of our things out of storage. Definitely getting done over this long weekend!
This post was just what I needed to hear, and something I need to keep in the forefront of my mind. I love Holley's blog, and highly recommend and encourage you to check it out.
While I've only made 1 so far this fall, I find myself browsing all things Crock-Pot on blogs and Pinterest. Check out this round up on FitFluential.
Birthday Countdown – T minus 9 days and counting.
And with that, I'm off the enjoy the first day of Fall Break! Have a great Friday, friends!
Let's Chat…
1. What have you been loving this week?
2. Favorite Crock-Pot meals?
3. What are your plans for the weekend?